Gabriel Comfort better known as Bonni3 has become very popular in the Instagram world since the COVID-19 Pandemic. Gabriel has been known for music since 2015, but more recently has become "The Plug" for other brands because she is such a resourceful individual. She has started a wave for other musicians as they are mirroring her reselling business to make more money to put behind their own music.
Over the years as she has solidified connections she has used those same connections and started reselling services she only had access to, in hopes to gain more revenue while helping other small brands with the exposure. She did just that. Gabriel is an innovative artist. She saw that not only artists, but all brands are seeking for more brand authority and credibility for their brands.
Why? It helps the brand gain more business as well as helps toward verification on platforms down the road. The Instagram blue check is highly sought after. Bonni3 saw the chance to create her reselling business strictly based around press coverage.
Although she prides herself as being a very professional recording artist, she enjoys being a businesswoman. Gabriel has been very good at business and had even studied it in college. She eventually dropped out and stated " I do not need a degree to learn how to network." Since her entrepreneurial ventures she has not always been as successful. Gabriel started reselling at the early age of 19 with only $150 in her pocket.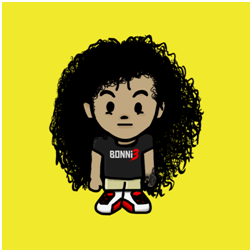 She knew being a music artist was not going to be very lucrative in her early stages and wanted to gain money while staying far away from 9 to 5 careers. "Those jobs tend to take too much energy that could result in me losing focus on the real goal".Reselling and dropshipping were free ! She studied both.
After researching she found sites that sold services she could not provide herself and offered those services as now her own services. She stuck to providing services that catered to the business she wanted to stay in, which was music. Social Media is an endless pool of potential clients. Gabriel saw the potential in selling on social media before it became popular.
First Gabriel started flipping services such as Graphic Design, EPKs, Soundcloud Promotion etc. Eventually as years went by as she is now 27 years old, she has found her niche. She caters now to all business molds and does not confine her revenue to solely musicians. This allowed her to bring in full time revenue and she has not worked a 9-5 job since she was 18 years old. As successful as she has become she is never satisfied.
Each day Gabriel looks for new markets to tap into. She wants to be ahead of the curve and know where any possible clients and leads might shift to. She has implemented both of her brands as one and it has helped her following grow. She is known to many as an artist and a publicist.
Her music career is not on pause whatsoever. While focused on her business she has been pushing her single for charting and licensing. Bonni3 has become an amazing role model for other young entrepreneurs and has definitely become a trendsetter for many within the industry.