Awards ceremony: 26.05.2023 | Cannes
Royal Gala Dinner Lead by Thomas Misse, Anna Stukkert, The Celebration of Investment Congress Awards 2023 will recognise those organizations that have made a positive contribution, whether that be strong performance, to the invest- ment industry. Companies, funds, platforms, brokers, advisers, fashion industry, PRs, and media will be celebrated for acts or attributes which truly set them apart from their peers. www.congress-realty.com/en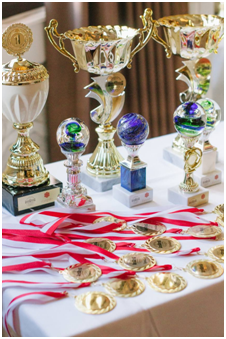 Persona of the Year Congress AWARDS 2023 – Mykola Udianskyi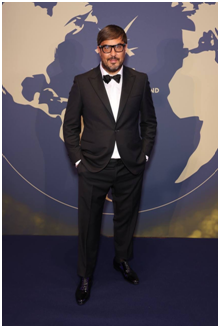 Mr. Udianskyi's story
A prolific, well-known and respected Ukrainian IT and tech entrepreneur with a PhD in Law. Mr. Udianskyi has a storied background in blockchain and crypto enterprise cultivation as well being a social activist, philanthropist and scientist.
Among his many active roles, Mr. Udianskyi is president of the EHOLD group, which has 10 offices in nine countries, employing more than 500 people, who service more than 10 million users across EHOLDs project portfolio, which includes dozens of successful projects and cryptocurrency exchanges that can be found in the Top 100 – including the most famous and notable of these, QMALL, a Ukrainian exchange, which has not only greatly bolstered digital currency adoption in the country, but was also ranked #1 for ROI globally in 2022.
Winning laurels: his recognitions
It is through these ventures and many other successes that Mr. Udianskyi found himself named among the top 100 richest Ukrainians, according to Forbes. Mr. Udianskyi has also consistently shown his passion for philanthropy, dedicating much of his resources and energy to the betterment of Ukraine and its people.
The entrepreneur has also been recognised and won many accolades for his efforts within myriad business, philanthropic and digital endeavors, including the award for Best Digital Currency Influencer 2022 at the World Influencers and Bloggers Awards, as well as taking first place in Hacker Noon's 2019 list of the Top 10 CIS blockchain entrepreneurs. https://udianskyi.comhttps://EHOLD.com
"BEST INVESTMENT PRODUCTS" – Congress AWARDS 2023 – Mikhail Romanenko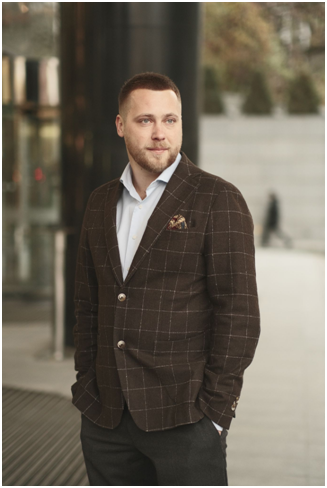 Mr. Romanenko – Founder of Danvel LTD and Eterninty Business Limited. President of Danvel Group.
Entrepreneur and investor. Philanthropist.
Co-Founder of the Danvel Group corporation Mikhail Romanenko with a fortune of $1.5 billion. Which includes Danvel.com and Eternity.Business. Was nominated by the International Investment Congress for "BEST INVESTMENT PRODUCTS" of the year and "Best Affiliate Program" of the year.
Michal Romanenko founded his corporation in 2014. It all started in Kyiv with a small office and 2 traders who wanted to join the community and make the largest community of traders. Now Mikhail's team is in the top 20 in the world in terms of trading in financial markets. Branches of the corporation are located in Dubai, London, Zurich, Vienna, Singapore.
In 2022, the Danvel Group Corporation became a media partner of Formula 1.
Michal cooperates with such companies as JPMorgan Chase, China Construction Bank, ALIPAY, HSBC, BlackRock, Goldman Sachs. Eternity Business Limited – is a diversified company specializing in trading in financial markets. The main activity is trust management of assets of private investors and venture funds.
"We can be proud of our talented entrepreneurs"– Anna Stukkert-president of the International Investment CONGRESS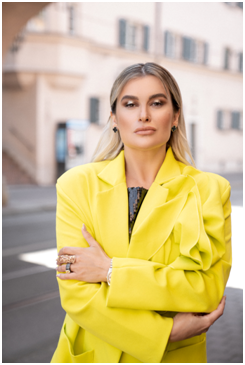 What is ICLUB
Congress partner ICLUB- is an international network of angel investors. We focus on the prominent early & growth stage companies from Fintech, Digital Health, Biotech, Deep tech (Infrastructure optimization, Robotics, Mobility & Logistics software, Cybersecurity), and Web3 (DeFi, Blockchain games).
The club closes 2–4 deals per month, attracting approximately $1 million in investment. ICLUB is an international network of angel investors.
Founded by one of the leading European venture funds TA Ventures, the community allows you to invest together in techno- logical and high-growth companies of Europe, North America, LATAM, and APAC.
Today, the club has 15 offices in 14 countries. These include Ukraine, the United Kingdom, Monaco, Cyprus, Poland, Portugal, Kazakhstan, Uzbekistan, Azerbaijan, United Arab Emi- rates, Singapore, Spain, Austria, and Switzerland.
The total amount invested is more than $35 million. The exits exceed $8 million.
The total number of exits is 6. The average allocation was between $150 and $350 thou- sand. The largest allocation was $1.3 million (successfully closed).
The largest individual cheque to a single startup was $250,000.
The fastest exit was in 8 months. It was a startup called Qentnis.www.iClub.vc
Anfisa Anikushina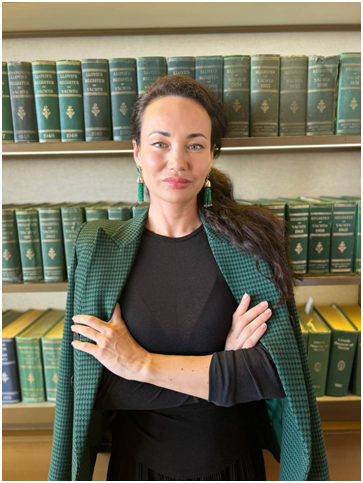 Anfisa Anikushina is the Investment Director at Skyrora Ventures, investor within the New Space sector, Partner at ICLUB Monaco.@anfisaanikush
Company ALNY – AWARDS Digital category – Congress AWARDS 2023 ALNY's Vakhtang Sophromadze
Those who do business online will learn a lot of interesting things from the founder & CEO ALNY Vakhtang Sophromadze. The range of preferences for ALNY customers:
Ongoing support and advising on campaigning in the ALNY Free Zone.
Gift certificates for 2000 euros to all owners of new business user accounts inside the ALNY marketplace.
What is ALNY
Each new ALNY user who complies with the general rules for issuing certifi- cates will receive a certificate.Constant discounts and dumping prices from the partners of the company. Closed business meetings and round tables with experts and opinion leaders as part of the Partner Program. Mentoring program for boosting your business with the help of experts and sellers.
The marketplace in the ALNY Free Economic Zone charges a 2% commission (all market- places charge manufacturers with commissions ranging from 20% to 80%).
ALNY Metaverse – structural program, charity, tourism, playing field, marketplace all on one platform and inside the game world.www.alny.geinfo@alny.ge
Mariya Spartalis
Mariya Spartalis is a financial influencer and expert in classical wealth management as well in crypto and blockchain assets. She is a top specialist and leading banker in Austria and Switzerland over 20 years. @mariyaspartalis
Fab Furnish is the premium multi-brand furniture division of REKHI GROUP OF Companies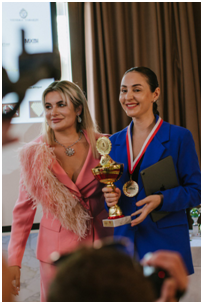 [Anna Stukkert, Awards Person – Natalia Kolieva – Director Luxury Brands of International Company Mulk]
Harpreet Singh Rekhi is the Founder Chairman of Fab Furnishing & Chairman of REKHI GROUP OF Companies.
Harpreet Singh Rekhi comes from a family of businessmen with a strong legacy in real estate, agriculture, construction, and mining for four generations.
REKHI group is a diversified conglomerate with business interests in Travel, Luxury Furnishings, Real Estate and Building Materials.
The flagship company is FAB FURNISHINGS which is Middle East's largest luxury brand showroom with a 20,000 sq ft of display area located in Barsha Dubai. Top luxury furniture brands from around the world would be displayed in this showroom as well as bespoke building materials.
Investment Persona Congress – Julia Savvides-Head of PR and Marketing Department of MXBI PROJECT.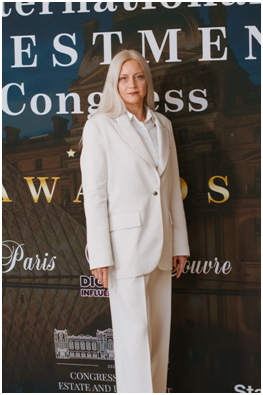 World expert on financial and economic issues, head of a European service company. MXBI is an affordable and professional project securing money of clients and providing the possibility of high understanding earnings.The new system of MXBI asset management uses the most profitable and reliable stock market instruments as a basis and maximizes their profitability using the latest crypto technologies.
The MXBI system has two main advantages that make it highly competitive: investments in mutual funds allow to receive income in the form of real money and fixed minimum yield investments have been secured by the reserved fund of the most prestigious UK financial jurisdiction. Moreover, according to the agreement, this payment is made with- out acceptance. We have received 15 financial licenses as a fundamental part of our le- gal responsibilities. Thus, MXBI literally connects the prospective future technologies with the reliability of proven financial instruments.
Businessmen will be interested in projects Aurous Finance -Gold industry Sudan for investment: two places sites for gold mining in Port Sudan and Adbar. In Adbar, Aurous Finance's gold reserves are about 2 tons, which is more than $500 million.
At present, 65,000 tons of ore have already been mined to the surface for $13 million. Investment Plan Aurous Finance – development of gold mining in Ethiopia. The company does charity work and launches the Nft metaverse minerals mining platform. Specially for the conference, Dmitry Konoval – founder & CEO of Aurous Finance selected and prepared promising offers for sale.Aurous.finance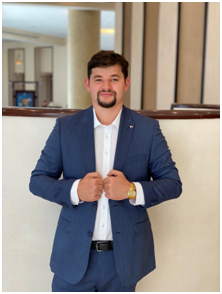 [Dmitry Konoval]
Mary Pearce
Mary Pearce @its_marypearce
Partner & CEO at Empire Real Estate Investments Qatar. High Net-worth international Real Estate Investments Expert. Former Diplomatic Status in Egypt and Qatar 25 Billion dollars ongoing Real Estate Investment Deals, 2 Billion dollars portfolio from a fund in Monaco, 25 Billion dollars Portfolio from a fund in Qatar
Caroline Dufour
Partners Investment Congress AWARDS & Royal Gentlemen Club
Caroline Dufour is a strong, ambitious, persevering and determined businesswoman. She started in catering in 1989, professional real estate in 2019 and finally the realization of a life project that was close to her heart, her brand of champagne in 2020.
Alena Odintsova, founder representative of the Congress on the Cote d'Azur @o.alenaa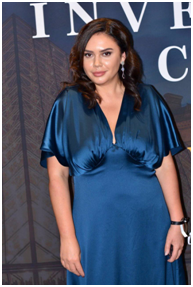 [Alena Odintsova]
Shifteh Maryan
Shifteh Maryan is an Austrian visual jewelry artist. She creates extravagant and luxury style art pieces which were presented at Miss Earth Austria, Miss Universe Middle East, by various luxury exhibitions in the USA. She is famous for her jewelry at Vienna Balls and other international events. She selects the most exclusive stones and all her pieces are handmade mostly. Dana York is an American painter of Romanian origin, based in France, in Cannes where she is a periodontal surgeon. Thanks to her international career (New York, London, Jerusalem, Monaco, Paris), she is recognized as an essential artist in her art.
What is JUDY GREEN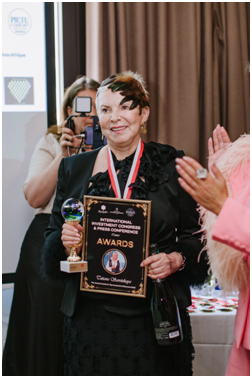 [Tatiana Savritskaya]
JUDY GREEN, the fashion brand founded by Tatiana Savritskaya, is proud to announce the release of their latest collection of elegant white blouses, jackets, and trousers. Inspired by the timeless style of Coco Chanel, JUDY GREEN's new collection is perfect for boss ladies who want to make a statement in the business world. The participants of different prestige FASHION WEEKS such as MBFW, Milan Fashion week and others. @judy- green.official.
Who is Liliya Tippetts
[Liliya Tippetts]
Liliya Tippetts – VIP Guest from Monaco is the founder of Porterium – the first Web3 Fash- ion Art and Design marketplace from London and Monaco, a luxury crown in Europe with a global vision – curating international independent designers. Porterium is also launching its own metaverse to create a more engaging experience with customers. Liliya Tippetts is also collaborating with influencers and celebrities like Victoria Silvestedt, Sasha Ray, Gessica Kayane (GKAY), Lana Scolaro, Audrey Bouette Tiger, Rymooshka, Allison Soro, Karina Zhosan, Anna Stukkert and Alina Di among few to create an exclusive network for Porteri- um-brands to accelerate their growth. @liliyatippetts @_porterium
Kevin Rochay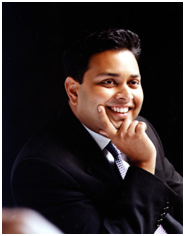 [Kevin Rochay]
Rochay Group founded in 1996, by Mr Kevin Rochay(Group Chairman & CEO) focused on creating a world that is environmentally friendly respects human rights and uses ethical resources. After 6 years of Investing 99% of Mr Rochay's Net worth into Ethical Production and profoundly challenging period finally managed to hit one of the main gold veinsin Tanzania, which is estimated to be worth $4.3 Billion. Based on that's valuation and Mr Rochay owning 80% of the Gold mines, Mr Kevin Rochay's Estimated Net Worth is $3.4 Billion
Aside from his work-related passions, Kevin firmly believes in giving back to society through his charitable work with children and animals. He is a Patron of Lucy Air Ambulance for Children, a devoted supporter of Animal Aid Unlimited in India and runs a private initiative to provide care for stray dogs in Bali and Sri Lanka.
EVENING PROGRAM Royal Gentlemen Gala Dinner & Congress Awards
IRA France-Afrique Charity-The association raises awareness on kidney disorder and facilitates support for kidney failure patients since 2013 . The funds raised by the annual Gala organized by Royal Gentlemen in Cannes has contributed to built a medical bridge between France and Cameroon with the creation of dialysis units under the aegis of the Cameroonian red cross.
-Dinner in the salon croisette WITH LIVE MUSIC from Viktoriia Zadvorna -Singer, composer. President of the International Opera Singing Competition "From Classics to Modern", Soloist of Bradesco Theatre, San Paulo, Brazil Soloist of the Pedro 2 Theater, Ribeirão Preto, Brazil, Сoncert vocalist Ukraine, Austria, Brazil, Poland.
Fashion Show with Wulan – is a Designer from Indonesia, she designs and creates luxury Evening dresses. @wulan_galerie
Partner & Sponsor
Roaming acoustic act with Nadine Podolskiy-Germany @nadine_podolskiy
Perfect singer Katya Volkova -songwriter, presenter, actress originally.@volkovakate_official
–SINGER MANO with piano -Collaborated with the American Hip Hop legend Snoop Dogg with Snoop Dogg giving him the name " Mano The Emotional Voice"
Performed at prestigious events with royalties in attendants, including the G8 conference and for the Prince of Monaco Albert II, The former President of The European Union Jean Claude Juncker amongst others @officialmanomichael
Official partner Congress & Royal gentlemen gala – Fashion TV PARTY -20.05.2023 Cannes- Hotel BARRIERE LE GRAY D ALBION- hosted by Anja J. ANJA – is a company that organize fashion show and Asian and oriental fashion
Media Contact:
week.@rex_christy_fernando
info for ticketswww.congress-realty.com/en
Contact No:- +491622328333