Tackling the climate emergency takes many forms. World leaders look dapper at conferences as stellar scientists innovate on CCS and renewable energy. Protestors rally for more governmental action via marches and civil disobedience. Climate action hitherto has been rhetorical, serious, and sometimes controversial. Nothing wrong with those, but there is always a potential to juxtapose an urgent need to fulfil climate ambition with elements of playfulness and positivity.
The Climate App was created with this in mind.Founded by NASA physicist Samuel Naef, the social-sharing app is to be launched later this year; it importantly harnesses the soft power of peer pressure to encourage users to reduce individual carbon footprints. The App enables people to track their carbon levels, upload their personal progress, and see how their friends are doing. It teaches what is the most impactful actions to make, allowing users to live more eco-friendly over time and rewarding behaviour with badges and awards, like those in running apps. Users will compete with their peers in a virtuous circle of environmental mindfulness.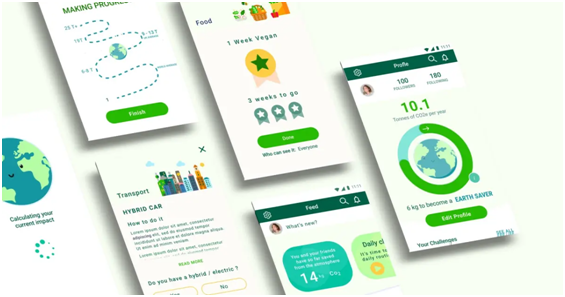 The Climate App has been endorsed by reputable sports figures such as Guinness WR holder Fiona Oakes and British Olympian Max Litchfield. The Olympic swimmer remarks: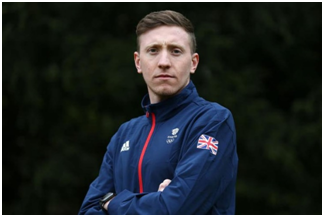 "The App will hopefully inspire more people on how they can create change, making it less daunting to take the little actions that can help. If we get millions of people doing one thing, this can then lead to change from so many others in their lifestyle, which is awesome."
Max Litchfield. British Olympic Association
Leaping Forward
Activists oftenmake positive changes. However, a systematic way to record their deeds, or for others to consistently engage with their actions has yet to be included. Samuel Naef founded the App with this in mind. He explains: "We know that people are starting to promote and speak about climate change, but we know that it is sometimes also difficult and lonely to change your own behaviour. It is much easier to do when you feel everyone else around you are doing it too, and how it all contributes to a larger end goal."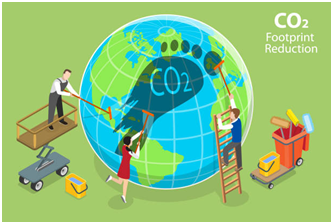 The eventual goal of the App, however, lies beyond encouraging a greener lifestyle. According to Naef, it crucially aims to show our governments that we are willing to personally be part of the change, and we demand concrete and extensive action from those in power. Indeed, movements of masses taking action have the potential to foster a new public consensus, nudging the decision-makers to implement necessary ambitious change.
The Right Side of History? Embracing change can be difficult, for it involves exiting comfort zones, losing stakes, and taking risks. Climate activists have faced slurs and slander, like the black British activists of the 1960s, like the suffragettes of the 1900s. Professor Helen Pankhurst has argued that those activists are on the right side of history, as the great-granddaughter of Emmeline Pankhurst draws strategic similarities between disruptive climate protestors and her exemplar suffragette family line. Of course, we can question the historicity of such periodic comparisons. We can debate the methodologies of disruptive protests, but there is no doubt that the cause is righteous as the momentum for climate action continues to grow regionally and globally. Even the world's largest emitter, characterised as 'the villain' at the 2009 Copenhagen Accord, has since embraced energy transition. PRC's cumulatively installed wind capacity accounted for 39% of the global share and its solar capacity for 36% in 2020, according to LSE's Grantham Research Institute, as the giant aims to reduce its carbon emissions by an estimated 2.6 billion tonnes annually by 2025.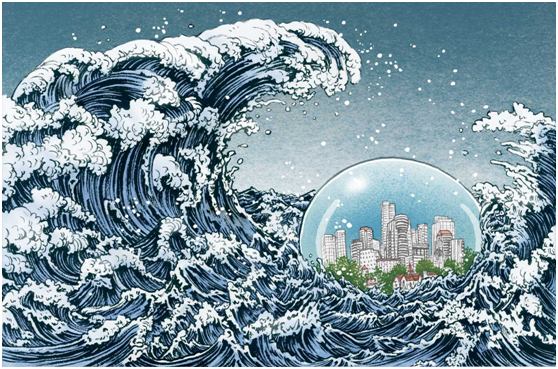 Climate change and the city, Yuko Shimizu
This is merely a part of ongoing global awareness to go green. A recent Oxford Economics report estimates that new green industries could be worth $10.3T to the global economy by 2050, equivalent to 5.2% of global GDP that year. There is also a growing market for consumer activism, coinciding with an increase in green consumers. Out of a pool of 18,850 people in advanced economies, Pew Research Center finds 80% are willing to change how they live to reduce the effects of global climate change. So yes, change is coming, macroscopic and microscopic. Lifestyle updates are about adapting to beneficial new habits whilst maintaining a fine quality, whether it is climate-friendly packaging, means of travel, food or energy solutions. Now, with The Climate App, it is unprecedentedly easier to contribute positively to the environment and reduce our carbon footprint.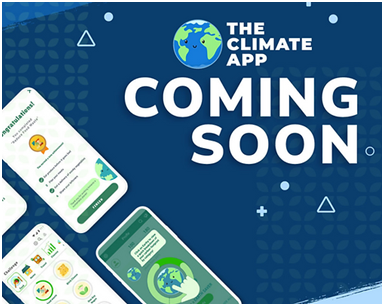 Find the Climate App on socials
Website: https://www.theclimateapp.earth/
Instagram & Twitter: @theclimateapp LinkedIn: https://www.linkedin.com/company/the-climate-app/