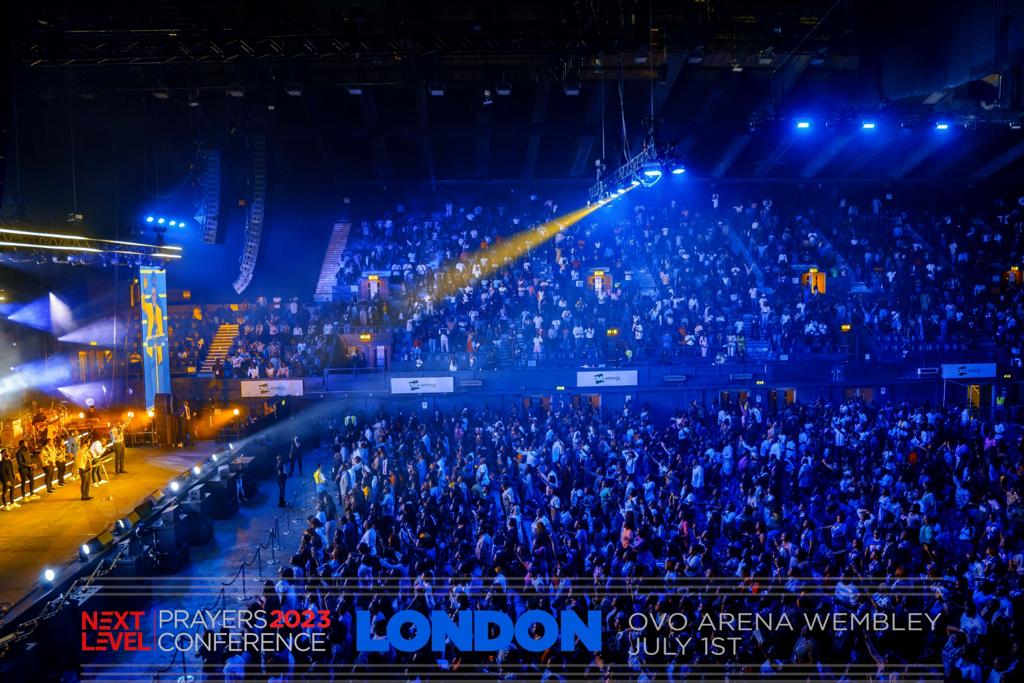 The vibrant city of London witnessed a stir as Nigerian Pastor, Bolaji Idowu, renowned for his powerful teachings, brought his transformative Next Level Prayers (NLP) Conference to Wembley. The conference attracted over 12,000 physical attendees which caused a traffic surge within the Wembley area on Saturday July 1, 2023.
"It was so difficult trying to navigate the crowd just to get a sit in the hall, what a day it was" said Linda, one of the attendees. "My trains were all over the place. It was so difficult to get one", said another attendee few hours after the conference.
Pastor Bolaji's charisma, oratory prowess and spiritual depth have captured the admiration and followership of many Christians around the world. Little wonder his conference filled up the OVO Arena. In his usual fashion, He delivered life-changing teachings and led all in attendance through a series of spirit encounters.
Famous gospel minister DunsinOyekan also took the stage with an air of anointed power. The arena was filled with a tremendous sense of wonder and reverence as he started to lead the audience into a world of devotion. The power of worship was felt tangibly with harmonizing voices, stirring hearts, and lifting spirits.
The NLP Conference, known for its powerful impact on spiritual growth and transformation, exceeded expectations as attendees were immersed in a supernatural atmosphere charged with miracles and testimonies coming in from every corner. The conference aimed to equip believers with the tools to deepen their relationship with God and experience breakthroughs in their lives.
As the conference came to a close, its impact reverberated throughout the city of London. The spiritual landscape had been forever transformed, and the journey of faith and worship continued. The NLP Conference had etched itself into the annals of London's history, leaving a legacy of hope, healing, and transformation.
Reports from past NLP conferences show that a mammoth attendance is a signature of the event. This time around, the impact could be felt in London as the streets were seen sprawling with pedestrians and train and bus stations crowded with commuters
To be a part of the ongoing Next Level Prayers movement, you are invited to join the online prayers that holds every Monday to Friday at 6:30 AM WAT on YouTube – Harvesters TV, Instagram- @bolajiid, Facebook-Pastor Bolaji Idowu, Mixlr – Harvesters. Through firsthand experience, you can witness the power of prayer and become part of the unfolding story of lives changed and destinies transformed.
For more information about Next Level Prayers and upcoming events, visit http://www.nextlevelprayers.com.