"The Power of Positive Thinking: Interfaith 21st Century Edition" by Hasan Abdullah Ismaik is a groundbreaking book that promotes unity and harmony among different religions. Written by the visionary entrepreneur and philanthropist, this book offers valuable insights to a wide audience, including young people, from diverse religious backgrounds.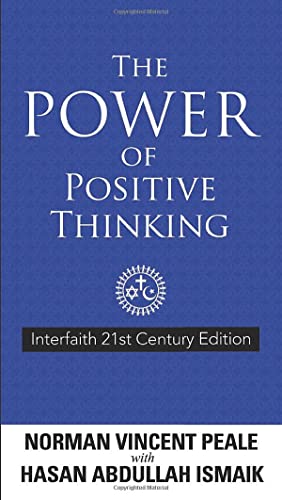 It is an updated version of the timeless classic originally written by Rev. Dr. Norman Vincent Peale in 1952. Hasan Ismaik's edition of "The Power of Positive Thinking" focuses on bridging religious gaps and fostering interfaith dialogue. He includes quotations from the Quran, the Hebrew Bible, and the Christian New King James Version Bible, highlighting the common philosophies and principles shared by Judaism, Christianity, and Islam.
By emphasizing shared values, Ismaik aims to bring people together and promote understanding in a world often divided by religious differences. This book serves as a beacon of hope, encouraging readers to reflect on their beliefs and embrace a more inclusive worldview. It provides practical strategies for cultivating positivity, overcoming challenges, and fostering interfaith dialogue in everyday life. With its powerful message of unity, compassion, and hope, "The Power of Positive Thinking: Interfaith 21st Century Edition" is an invaluable resource for spiritual growth and interfaith understanding.
Ismaik is not only an accomplished businessman and entrepreneur but also a dedicated advocate for unity and compassion. His work extends beyond literature to promoting philosophical culture, developing rational discourse, and enhancing understanding of Islamic philosophy and heritage. Ismaik's goal is to foster love and understanding, support religious discourse and tolerance, and contribute to the welfare of young people while bridging the gap between the East and West. "The Power of Positive Thinking: Interfaith 21st Century Edition" is a significant contribution to promoting harmony and interconnectedness across religions. Through its message of unity, compassion, and hope, this book encourages readers to embrace positivity and work towards a brighter future for humanity. His unwavering commitment to unity and harmony shines throughout the book, inspiring readers to embark on a transformative journey towards a more inclusive world.
Q: When did you first learn about Norman Vincent Peale's The Power of Positive Thinking?
A: I had this book since the beginning of my youth, specifically at that stage in which the aspiration to self-knowledge increases and the interest in building personal skills. For that reason, I was very interested in the Power of Positive Thinking since I read it for the first time. This happened after I heard important praises of it from some friends whose reading helped them in their lives. At first, curiosity prompted me to know its content, and while reading, the Bible verses that were mentioned in it caught my attention, and the way the writer relied on narrating and commenting on them, and this is what attracted me to the book more, because of course I keep reading books related to faith, particularly those that talk about God and our relationship with Him.
Q: How did Peale's book affect your life?
The book accompanied me in many difficult situations that I faced, most of which were related to work and attempts to rise after failure. It was rich in positive ideas that help overcome these situations, and that always guided me to choose better decisions. Also, Peale's book made an impact in my life when some tried to offend me and made false accusations against me, fortunately, I was able to find in the book what makes me behave well and be patient in the face of abuse. The genius of Rev. Peale also had a direct impact on me, which was manifested in his ability to spread the purposes and greatness of the Bible within real stories about what most humans suffer from; whether successful and lucky or those who always suffer from difficulties or those who are pessimistic and frustrated. And because I believe that life must be full of pitfalls, mistakes, and difficult site which I actually faced many, the book alerted me to the mistake I was making when I was trying to face difficulties without paying attention to the role of faith in the Lord in the situation. Many books may help you face difficulties, including psychological, motivational, and therapeutic ones, but the hardships of life act very great and need more than those books. You need a faith motive based on the fact that God made life as a combination of success, failure, health, illness, comfort, and fatigue, and to be satisfied with our life, work, and situation, all of these require that we have absolute confidence in our Creator, our Lord who takes care of us.
Q: What were your thoughts on the biblical elements of the book?
These elements or verses according to their idiomatic name and their content of belief and behavioral connotations have always represented for me a rich and continuous source of the power of (positivity), and this is the subject of the book, of course. I say always because I am talking about the period when I dealt with the book as an interested reader, the same continued when I started editing or participating in the book, if I may say. At first, I was making the effort for my benefit, then I wanted this benefit to become public and for everyone. Especially as I have done my best to make these verses or elements a basic structure in the way people live, and in supporting their ability to face life's difficulties and crises with this unique spiritual strength. with each verse, I read in the book I was thinking of its equivalent in the Noble Qur'an (the Holy Book of Muslims), and this made me excited to make comparisons between the two heavenly books, extract the common meanings between them, and share the same stories in the East as in the West, which carry the same essence as well, but differ only because of differences societies and their customs. Nevertheless, it became clear to me that what we have in common as human beings who believe in God is much greater than everything that separates us from each other, and that what we think of as a difference is nothing but a set of illusions fabricated by narrow-mindedness and limited and closed thinking.
Q: How long after you read the original book did you get the idea to create the interfaith version?
The idea started as just a dream after my first reading of the book, but putting this dream into practice and preparing the appropriate plan for it took several years. I did not forget my dream during that period, but its implementation needed a lot of time, which was only available after a long time. As for the reason for my persistence after a long time, that is because I was greatly influenced by the Gospel verses, which brought reassurance to me. I often remembered how close it was to the Holy Qur'an, which prompted me to read the whole Christiane Bible and the King James Book as well. It did not end here, but I went straight to reading the Torah, and despite the difficulties I faced in the beginning, I found great help from some Jewish clergy and rabbis, whom I thank from all my heart for helping me understand many of the meanings of the Torah and its verses. At that time, I was constantly reading the three holy books, and I was aware of many of the commonalities between them, then the right opportunity came with the quarantine caused by the Covid pandemic, which gave me a lot of time to be able to republish this book with the additions that you see today. As a result of all this, I also had the idea of working on a separate book that will soon see the light, in which I will address the greatness of these heavenly books and the importance of believing in them, in addition to explaining what unites us, the children of the great Abrahamic religions.
You can order this powerful bookon Amazon.com https://shorturl.at/fstKU