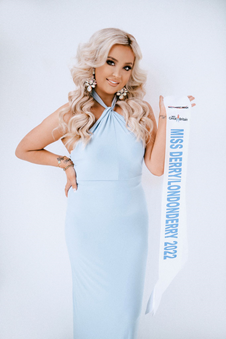 Amy Doherty, aged 26 years, currently holds the title of Miss Derry/Londonderry and is the first finalist from the city to compete on the Miss Great Britain stage next month. Amy runs her own business and is a massive female empowerment advocate. Amy is a very proud Mum to two little boys, who are both autistic. Amy is a passionate voice for the autistic community endeavouring to make the world a more accepting and aware place for not just her two boys but so many others.
Amy is an accomplished TEDx speaker, having delivered a talk about society and its inclusion of Autism when TED came to the city of Derry/Londonderry for the first time ever. Amy has recently become an ambassador for Autism NI, holding monthly sessions for her local community which provides resources and support to families and autistic people.
Miss Great Britain is the oldest and most prestigious pageant in the UK. This year the final is being held in Leicester on 20th & 21st October.
Pageants have enjoyed a well-deserved resurgence in recent years and Miss Great Britain is 'the' competition to be a part of. Having launched in 1945 the competition celebrates its 77th Birthday this year. An expert panel of judges will be charged with the difficult task of selecting the winner at the Athena on Friday 21st October. The audience will enjoy a spectacular catwalk style stage show featuring all 65 national finalists, as well as live entertainment and a delicious 3 course meal. All 65 finalists will extend the invite to the occasion to their family, friends and sponsors alike opening our event up to an audience of both local and national supporters.
In recent years more and more pageant systems have been introduced across the UK, with Miss Great Britain remaining one of the biggest and best in the industry.
The modern-day Miss Great Britain competition has been built upon an extensive history of successful pageants and has helped launch the careers of many women who entered.
The competition has evolved into much more than a 'Beauty Pageant'. Miss Great Britain look for a lady who embodies all that a modern woman should: strength, intelligence, ambition, integrity, and compassion.
Now in its 77th year, Miss Great Britain and the brand is still strong and growing all the time. Constantly evolving & empowering everything a modern day "beauty pageant" should be. Miss Great Britain don't restrict on background, career, age, or marital status and because of that they attract thousands of applicants each year.
Who would make more of a modern-day queen than a single Mum of two fighting for a cause which effects not just her sons but millions of others? Amy is surely worthy of a crown in the eyes of her two boys, all Mums out there and the many others who she helps along the way.