Kurt Rosenberg is a world-renowned musician and composer of Celtic Music. He is a member of both Clan Scott Scotland and the Scottish Music Industry Association and aims to touch as many people as he can with his delicately-crafted songs. No stranger to adversity, Rosenberg demonstrates how to persevere and follow your dreams.
Rosenberg was born in Roseberg, Oregon and moved to Portland when he was two years old. After graduating from high school, he attended Pitzer College where he got a Bachelor of Arts in History and later took postgraduate courses in Marketing, Accounting, and Business Math at Portland State University.
Growing up, Rosenberg was surrounded by music. His childhood is filled with memories of singing the "My Fair Lady" soundtrack with his mother and listening to classical music with his father. He started composing when he was merely twelve years old. One of his early pieces was even played by the Ainsworth School Orchestra at their annual concert.
His journey as a composer continued into his teenage years when he began to create Pop songs heavily influenced by The Beatles, Cat Stevens, and Elton John. However, his love for Celtic music began once he heard "Harry's Game" by Clannad, and now he has been composing Scottish and Irish music for over 25 years.
His music spans across many genres and each piece of his music conveys a different emotion, thought, or message. With each of his compositions, Rosenberg wishes to create melodies that deeply touch his audiences.
Rosenberg says that the thing he loves most about making music is the process of composing. When he starts to compose, he sits down at his keyboard and just begins to play. Then, sometimes, he chances on a melody that sticks out to him. If he feels like the melody is a good fit, he starts to arrange the music and decides which instruments best suit the feeling of the song.
In his journey as a composer, Rosenberg has had to overcome some setbacks. In the midst of the Covid-19 pandemic, a short film for his song "Highland Home" was selected to be screened in a number of prestigious international film festivals including the Cleveland International Film Festival, The Oxford Short Film Festival, and the Worldfest Houston International Film Festival.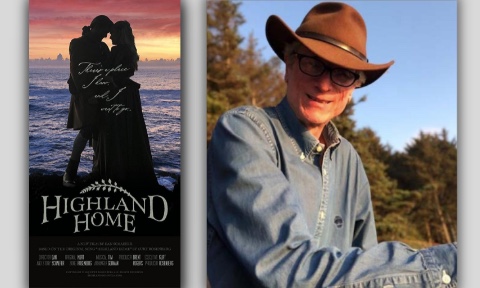 However the film had to screen online instead, meaning that not only did Rosenburg miss the chance to see his project premiere in person, but he also had to miss out on the chance to network with professionals from the Film and Music Industries. This was disappointing to Rosenberg, as he wishes to one day compose the score for a film or TV show.
Rosenberg feels that success is subjective, and that it represents what is important to someone on an individual level. He notes, "To be personally successful is to continually try to be a better person, a person of integrity, and wear my word in my bond. On the professional side, I would deem myself as a success if my music was used in a film/on TV, my fans love my music, and they respect me as a human being."
He continues to chase after his goals, wishing to one day become internationally known as an accomplished composer, a sought-after musical collaborator, and someone who creates special ties with his fans.
For the time being, Rosenberg has some exciting projects in the works and looks forward to future projects. Some upcoming projects of his include refining the music and lyrics for his original musical "For the Lack of Laura," and producing a music video for "The Moon Followed Me to Falmouth," a song reminiscent of old sea shanties from the British Isles.
To keep up with Rosenberg's latest work, follow his Twitter and check out his Spotify!