Indian based aerospace and defence company Hindustan Aeronautics Limited (HAL) has been issued with a demand notice for unpaid aircraft parts. This development has put the well-established relationship between UK based aircraft seat manufacturer Martin Baker, which has spanned over 50 years, under significant strain. The implications of this dispute are now casting a shadow over country ties.
HAL, known to be one of the oldest and largest aerospace and defence manufacturers in the world with an impressive annual revenue of nearly $4 billion, has relied on Martin Baker for the supply of life-saving aircraft seats for decades. However, the failure to fulfil financial obligations has caused stern complications, leaving the UK based ejection seat manufacturer in a precarious situation.
HAL uses Martin Baker manufactured ejection seats for application in their HTT-40 and LCA Tejas aircrafts which has to date equipped the IAF and Navy with life-saving aircraft ejection seats in more than 800 aircrafts. The UK based manufacturer claims that whilst the majority of the seats supplied to HAL have been paid for, HAL still owes a significant amount for seats that have already been delivered. The outstanding payment has raised concerns about HAL's financial stability and ability to continue its operations smoothly.
HAL HTT-40 basic trainer aircraft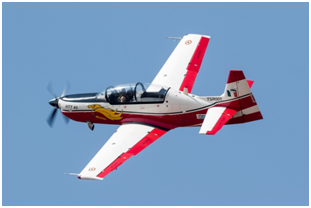 The failure of a well-known defence contractor like HAL, with its substantial resources, to meet its financial obligations has raised concerns within the defence industry. The stability of the defence supply chain, as well as the reputation and reliability of the companies involved, depends on a swift resolution to this dispute.
Resolving this matter promptly is crucial to preserving the positive relationship between the companies and mitigating any potential implications for country ties. Swift action is necessary to ensure that positive ties are maintained between the nations involved.
HAL LCA Tejas aircraft