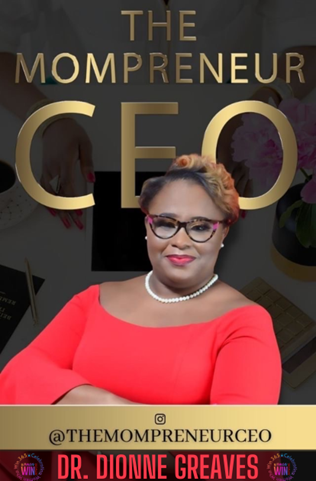 Introducing Dr. Dionne Greaves, CEO & Founder of The Mompreneur CEO platform. The Barbados Bombshell continues to ignite the Globe and dominate every stage she touches. Fiery and Unapologetic in her desire to Equip and Pour into the masses. This Global Powerhouse has more than the skills required to help Mom's boss up and win in business, their professional careers and in the home.
It's no surprise that Dr. Dionne is Highly- Sought After for her Golden touch and inspirational words of wisdom.
As a loving Wife and Mother, Dr. Dionne has translated her innate nurturing capabilities to lean in and empathize with her clientswhile still challenging them to achieve greater. As a successful full-time corporate professional, Dr. Dionne has established a long history of supporting Executive management to lead Best-In Class Teams while exceeding organizational metrics.
Keeping Faith as her foundation and a resilient work ethic, has lead Dr. Dionne to build an Award-Winning business platform known as The Mompreneur CEO. Through exhilarating conferences, speaker opportunities, global retreats, masterminds, and workshops, Dr. Dionne is leading the Next Generation of Mompreneurs to soar to higher heights.
If that's not enough, this Barbados Queen, is the Executive Producer and Tv Show Host of The Mompreneur Show on the Women Win Network, a Contributing Writer, and the Chief Executive Assistant for Dr. Nakita Davis at The Women Win Network and Jesus, Coffee, and Prayer Christian Publishing House LLC.
This Bajan Sensation and Barbados Native brings the Spice needed and the Flavor of effectiveness to any situation she is added too. Her years of Corporate Executive Assistance, Project Management, and Event planning have been a conduit to her success in business, professional, and personal affairs.
One thing is for certain, Moms around the world ready to boss up in their professional careers and business need only 1 number to call: The Mompreneur CEO.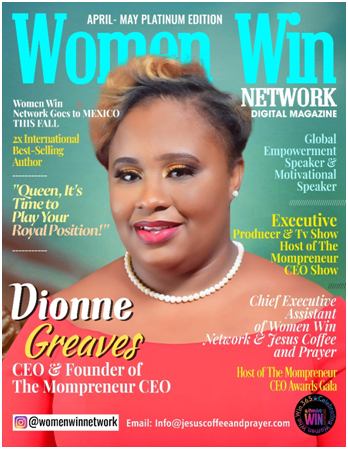 More on Dr. Dionne Greaves
Dr. Dionne Greaves is a Global Empowerment Speaker & Mentor, a 2X International Bestselling Author and the Executive Producer & TV Show Host of The Mompreneur CEO Show. She is 2X Honoree on the Brainz Global 500 List of Entrepreneurs & Influential Leaders. Dionne is also the Chief Executive Assistant of Jesus Coffee and Prayer Publishing House LLC and Women Win Network.
Known for her innate ability to empower, Dionne specializes in helping female entrepreneurs, coaches and speakers GO GLOBAL as they dominate the world stage with their businesses.
Dionne is highly sought after in female audiences looking to enhance their talents, awaken their purpose, and live their life's dream center stage. She remains a trusted leader among women and is often celebrated as a voice of reason, direction, and clarity that empowers women.
Connect on FB or IG @dionnesgreaves
Visit Website: dionnegreaves.com
Email Inquiries: info@dionnegreaves.com
PR Article in Partnership with JesusCoffeeandPrayer
Connect on IG @jesuscoffeeandprayer or @womenwinnetwork
Media Inquiries Email: info@jesuscoffeeandprayer.com