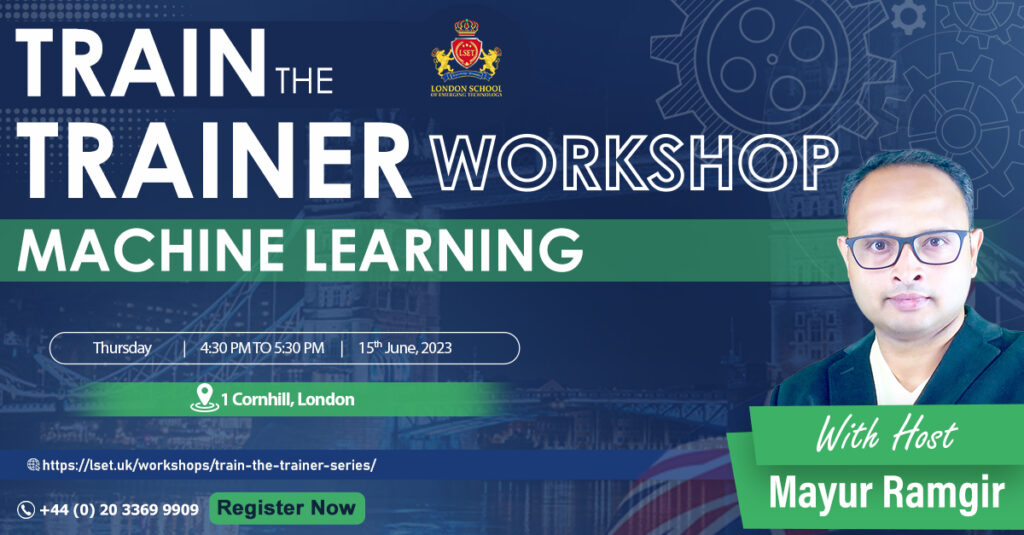 On June 15th, 2023, the London School of Emerging Technology (LSET), a prestigious UK institute, hosted the highly anticipated International Train-the-Trainer Workshop on Machine Learning at its state-of-the-art facilities in central London.Train-the-trainer workshop is a good way to equip educators with the skills to become skilful trainers. This approach can help build a strong training structure and enable educators to share their knowledge with their students. Furthermore, this training program can ensure that the trainers are up-to-date with the latest teaching methods and technologies, enabling them to deliver the best education to their students.
There was a diverse group of machine learning professionals and enthusiasts in attendance at this event. This event provided a wealth of knowledge sharing opportunities, hands-on experiences, and networking opportunities. The event was a great success, and the attendees were able to leave with a better understanding of machine learning technology. The London School of Emerging Technology plans to host similar events in the future and is looking forward to continuing to provide unique and educational opportunities for machine learning professionals and enthusiasts around the world.
LSET has access to cutting-edge technology and is committed to providing opportunities for growth and education for those interested in machine learning. Attendees were impressed with the quality of teaching and resources available at LSET, which allowed them to explore the field of machine learning in depth. By providing such events, LSET continues to be a leader in the industry, demonstrating its dedication to innovation and providing access to the latest technology.
LSET has carefully curated this workshop to provide trainers with comprehensive insights and practical training on Machine Learning. Throughout the workshop, they learnt from an industry expert, engaged in hands-on activities, and gained the necessary skills to effectively train others in this rapidly evolving domain. Consequently, the trainers are now well-equipped to lead high-quality Machine Learning training sessions and share their knowledge with others.