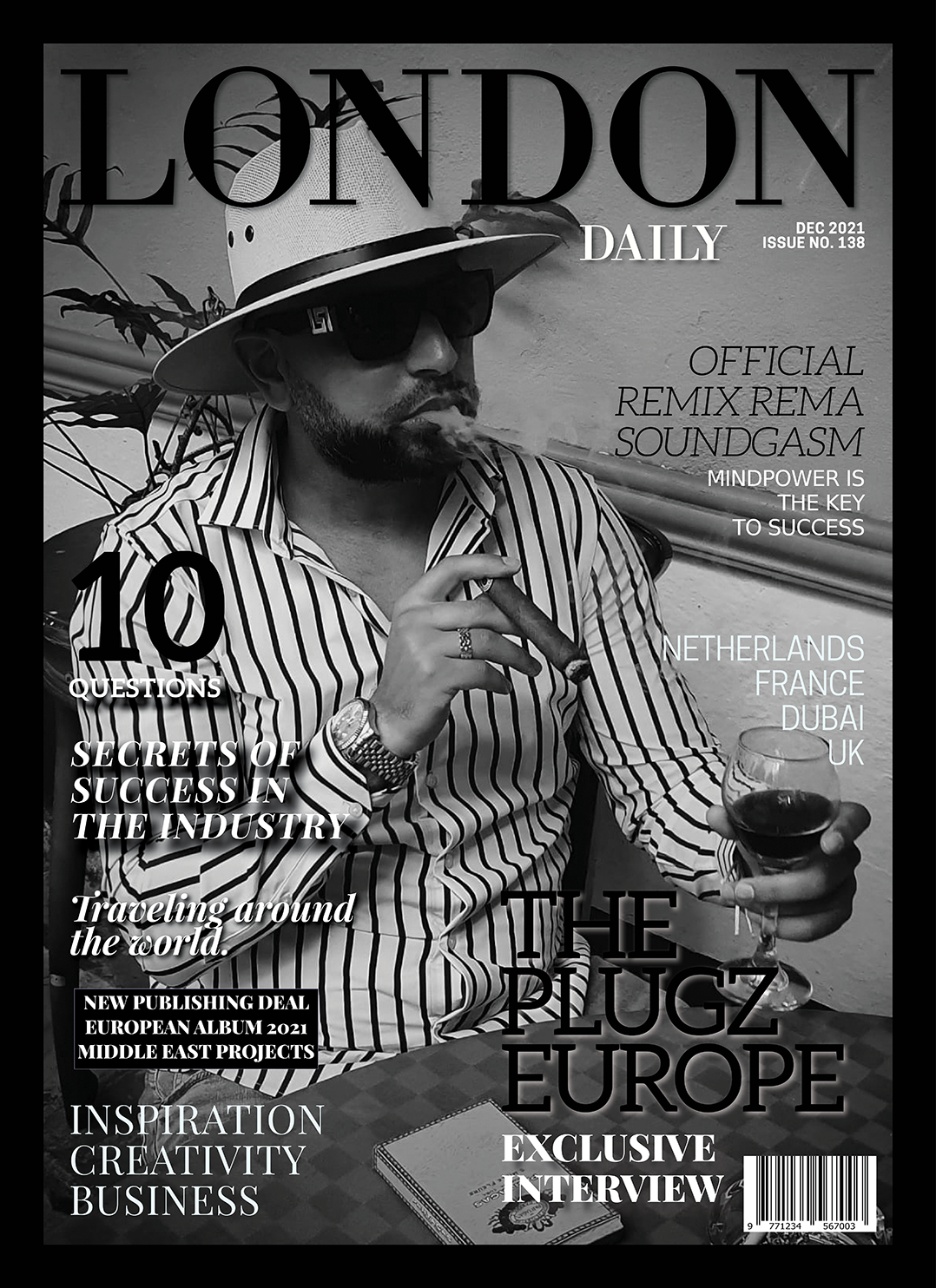 After having a magical music moment at a young age, entrepreneur, label owner, author and composer, The Plugz Europe discovered his passion for performing and connecting with people through music. Throughout the coming years, he's collaborated and released music with a variety of artists such as Rick Ross, Busta Rhymes and Desiigner. In addition to his own music, he produced for artists including Algerino, Jul, Rema and Vegedream (to name just a few!). 2022 will be the release of his debut album Building Bridges. London Daily Post was lucky enough to get to catch-up with The Plugz Europe to discuss the latest release, how he got his start in music, what he'd love to in his life and so much more. Full interview below:
1: London Daily: When did your relationship with music begin? What is it about music that made you decide to pursue a career in it?
The Plugz Europe: I started to rap at the age of twelve and when I was around 14 I started making beats. In high school I was introduced to music production and fell in love with making my own music.
2: LDP: Congrats with your 2 productions on the latest release "Le Classico" featured with artists as Jul, Algerino, Franglish etc. This album went gold after 2 weeks. How has the way you approach/create/think of music changed since releasing an song?
TPE: Thank you! I feel like blessed and it wouldn't have happened if my brother Yacine Arroumia wasn't in contact with the team of Jul in Marseille. I feel like working on own album allowed me to rid myself of any inhibitions or judgment and capture what came to me naturally. I try to create from this place as much as possible now.
3: LDP: As of today, what are the Top 5 things you'd love to "do" (ex. Get rid of/remove) out of your life?
TPE: I'd love to erase any negative thoughts, old patterns/habits, mosquitoes in my backyard and pretty much anything that doesn't serve my higher self.
4: LDP: As a producer who works with a variety of vocalists for projects – are there certain qualities you look for in collaborators? Who are some artist(s) you'd love to work with on a song in the future?
TPE: I love vocalists who know exactly what they sound like when they get on the mic and have a specific tone that nobody else has. I've been fortunate enough to work with some amazing vocalists/Artists in my career so far. I'd love to make a record with Due Lipa. That'd be awesome!
5: LDP: I saw on Twitter you asked your followers what would be the one food they'd eat for the rest of their lives so wanted to ask you the same question + why?
TPE: Haha I think it's Surinam Food for me. It's great!!
6: LDP: What's been the biggest "pinch me" moment of your career so far? Is there an accomplishment, etc in your mind where if you attain it, that you'll feel like "you've made it?"
TPE: Honestly I have the "pinch me" moment everyday knowing I get to do what I truly love and continue to grow and connect with more and more people through my music. From starting with nothing, knowing nobody to traveling all over the world to studio sessions in Dubai and USA and being part of this industry as a creator I feel truly grateful and blessed. As long as I'm happy and stay inspired I know that "I've made it."
7: LDP: If you could only listen to (5) artists for the rest of your life, who would they be?
TPE: Tough one!!! But Dua Lipa, Cheb Khaled, Midnite, Frank Sinatra & Michael Jackson.
8: LDP: In addition to being an artist yourself, you're also a major champion for up-and-coming independent artists and recently started your own record label, The Plugz MENA in the Middle East. Why is supporting rising talent such an important cause? What is the #1 thing you tell these artists that you wish you would've know starting out?
TPE: As a recording artist, it is important to have support for your development in music.
I started The Plugz as a Label to create a space where I could record and release my own music and also bridge support to artists that the label takes on. I would say that the #1 thing I would tell artists who are starting out is to stay true to your sound and your voice as an artist.
9: LDP: Is there anything specific that you hope to accomplish with being in such an influential position?
TN: I want to use my music and network to support other music creators in this position. It is an honor to be a part of this in this way. Mindpower is the key to success.
10: LD: Finally, what can fans expect from you for the rest of 2021 and into 2022? 
TPE: I'll be working on my upcoming album in December to finish out the year and I have tons of new music lined up for 2022.
A massive shout-out to The Plugz Europe for hanging with us. To keep updated on his journey and all that new music coming in 2022 be sure to connect directly by checking out his socials and music below: