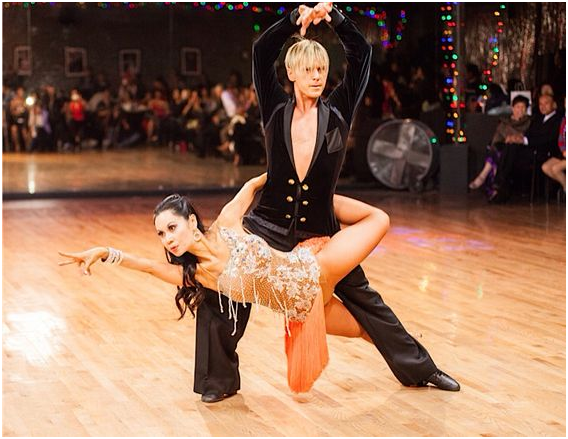 Ballroom dancing, a timeless and fun social activity, bringing lots of joy to anyone who dares to move their feet to the classical rhythms. It's a graceful activity requiring lots of practice. Whether you're looking for a fun and engaging way to exercise, learn a new hobby, improve your social life, prepare for an upcoming event, or simply take your dancing skills to the next level, regardless of your age, you'd ultimately need a professional tutor.
This is where Oleg Astakhov comes in, a multi-award winning ballroom dancer, influencer and certified instructor based in California and yet, connecting with the whole world through the power of dance. Early enough, Oleg recognized the gaps in the ballroom dancing niche. Through his social and entrepreneurial ingenuity and thanks to technology, he is bringing the world together one dance step at a time.
His latest innovation is the "Dance with Oleg" App, a monthly subscription plan acting as an incentive to help you make a diligent effort in improving your dancing skills. The Dance with Oleg app has been designed to accommodate different levels; from complete beginners all the way to advanced level. Dance lessons include ballroom dancing with a rich blend of Latin American dance styles like Cha Cha, Merengue, Samba, Rumba, Jive, Paso Doble, Swing, Salsa, Tango, Waltz, Bachata and many more.
In 2021, he launched DanceWithOleg.com – an up-to-date edutainment platform showcasing over 400 lessons in Latin American Dances.
Certainly, the Ukrainian native did not just become an overnight success. After completing high school at 16, he moved to Poland obtaining a scholarship for his first degree at the prestigious John Paul II Catholic University of Lublin – KUL. What followed was an even stronger pursuit of academic excellence where he graduated with two Master's degree in Pschology and also, Management and Marketing.
He moved into the entertainment industry, participating in Bar 4, the Polish equivalent of the reality Tv show, Big Brother. He became an unforgettable face in the history of the show. Such exposure awakened Oleg to aspire to be more and do so much more for others. In 2005, he moved to the US and competed as a professional ballroom dancer. With 12 years of experience, he is a finalist and winner of prominent US dance competitions  such as the:
Millenium DanceSport Open Professional finalist,
California Open Professional Championships bronze medalist,
US National Professional Finalist and Rising Star Latin Champion,
US Open Professional Rising Star bronze medalist,
Millennium Dance Sport Championship Professional Rising Star Champion
US Open Professional finalist,
Embassy Ball Professional Rising Star Latin Champion,
Emerald Ball Professional Rising Star Champion
and winner and finalist of many major dance competitions.
This vibrant expression of talent inspired him to birth his first dance school in 2007, Ballroom Dancing LA, in Alhambra, California. Three years later, he opened the Beverly Hills Dance Studio, working with music superstars like Selena Gomez, Ariana Grande, and others. In 2019, he started ViBE dance studio in Beverly Hills and a fourth one in 2020 as part of the world's largest franchise, the Fred Astaire Dance Studio.
In each dance studio, learning how to ballroom dance is a welcoming, relieving and fun experience for everyone of all ages and from all works of life. One trait that keeps Astakhov and his team in high demand is not just the professionalism but also, a patient down-to-earth style of teaching. Watching his Youtube videos gives the viewer a sense of a teacher willing to see his students succeed.
When Oleg isn't dancing, he loves hiking, playing tennis, golf, playing the guitar, and lovingly goofing around with his friends and family.