After a few days, just a few hundred NFTs in the once 3,650 but not 365 piece collection have been sold.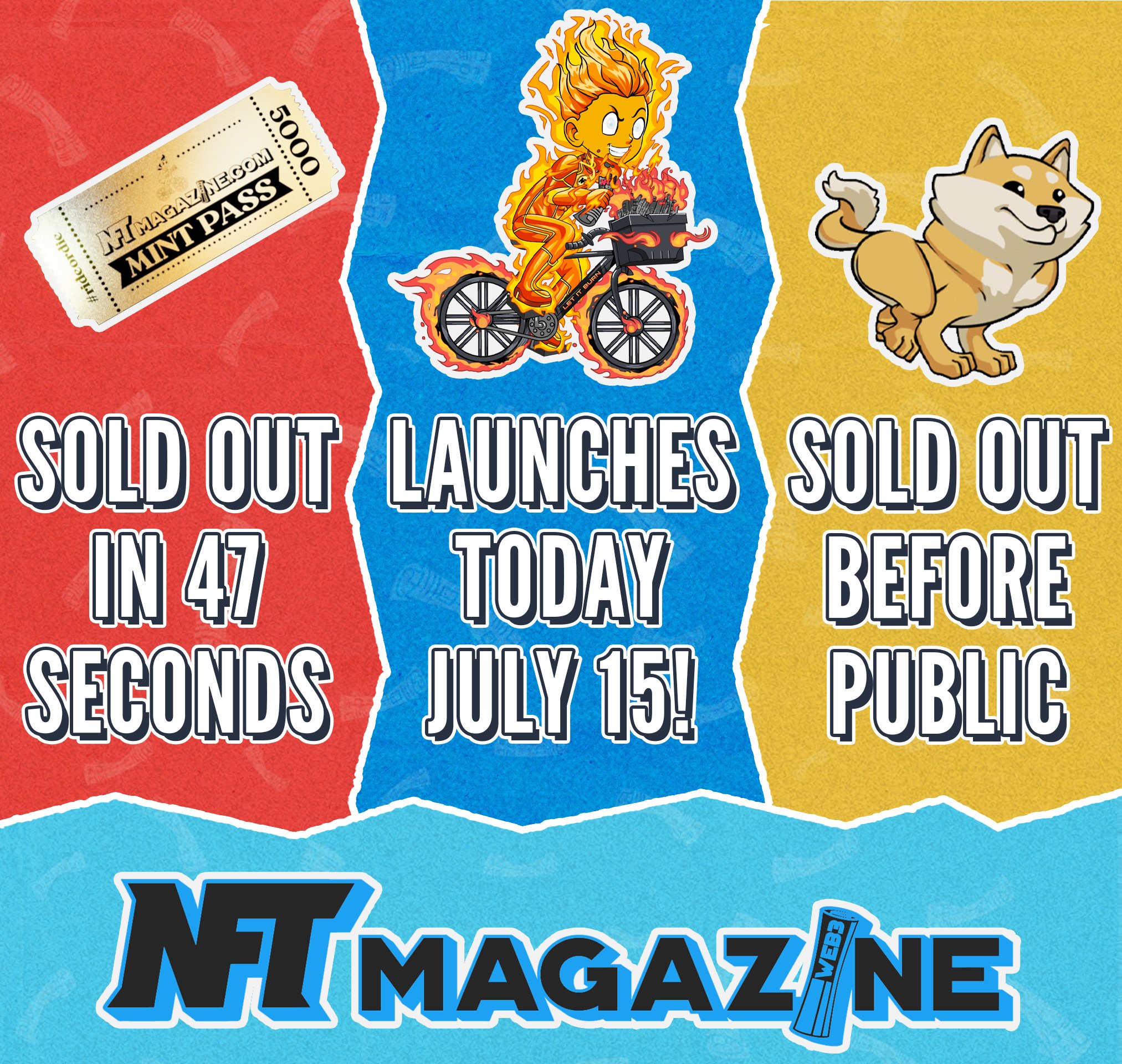 Paper Boyz NFT, which debuted on July 15th, is a prime example of a popular NFT from an experienced team, not performing anywhere near as well as expected amidst this crypto winter. 
Paper Boyz, like the popular NFT collections Bored Ape Yacht Club and Doodles, is a collection of NFTs. Each has a similar style (in this case, an animation of a Paper Boy chucking newspapers), but with distinct characteristics. The boy is half cyborg in some, with mansions and Bugatti's in the background at times, and the boy appears to be made of solid gold or flaming on fire in others.
However, unlike the team's prior successes, such as Junior Punks NFT, Paper Chaserz NFT, or the NFTMag Mint Pass, the NFT collection did not sell out instantly. Hyped NFT collections routinely sell out in under a week, with many selling out in under an hour, such as the founder's recent collections. However, Paper Boyz only minted 192 NFTs on day 1, which is less than 10% of the total Paper Boyz collection. Overall, the community has been positive and supportive, with the exception of a few Twitter users who loved the art, but were upset that they could not afford to mint a Paper Boyz NFT in these market conditions. The Paper Boyz NFT includes a premium NFT news discord, access to events, and future free airdrops or claims for holders.
Despite the project gaining a massive following on their social media accounts and a discord nearing 75,000 members—to the point where the chat would periodically freeze from the number of users chatting—their official Paper Boyz collection did not sell out. On an AMA co-founder JoeySendz told the community, "The supply has been reduced to 365 lifetime members and we will be giving away our Mutant Ape, which is the 2nd most like MAYC on OpenSea to a holder, as originally stated when you messaged our team, and we will be gifting our VeeFriend to someone that claimed a free Paper Chaserz NFT.  Nothing changes. We appreciate all those who minted, our community and all the support you guys have shown on social media from day 1. "
With the cryptocurrency market in a tailspin, it's difficult for new collections to thrive unless minted for free or sold for peanuts. One might have seen the success of the Paper Boyz's first 2 projects which sold out instantly just a week prior, but paid NFTs in this market are a whole different ball game. However, JetSet, JoeySendz, and TheBlondeJon and the Paper Boyz team have made things more difficult for themselves by pricing each NFT at 0.444 ether, or $520, which was lowered from the original mint price of 1.5 ETH when the team first started marketing 4 months ago, before the crypto winter took its toll. Typically, new collections with similar utility are released for 1 ether to 3 ether, with the last big one being Moon Birds NFT, which was backed by many popular industry influencers. 
However, since the market crash, which has seen the price of ether drop nearly 70 percent since the beginning of the year, paid mints have become a thing of the past and "free mints" have become standard, with creators selling NFTs for free in the hopes of profiting from secondary sales by taking a 5- or 7-percentage-point cut.
Additionally, Paper Boyz was being marketed as a traditional product with access to business events and a premium discord channel, but was being sold as a NFT. One of the things many people, like Gary Vee, are excited about in the NFT space that helped fuel much of the NFT bull run last year is the ability to sell traditional products and services using NFTs to represent ownership. However, as Paper Boyz goes to show, NFTs are still not there yet. It is too early for that business model to thrive especially in a bear market. 
Many people assume NFTs are just jpegs or other digital files that hold no value besides what people are willing to pay, so when they see a NFT they want it to be priced in reference to the rest of the market just because it is a "NFT"  and often times disregarding the true value of the utility and the NFT purpose for being sold in the first place. This is exactly what happened to the Paper Boyz. Even with an experienced group of internet entrepreneurs and NFT founders, they struggled to get this message across. 
The technology for NFTs may be here to stay, but right now the truth is that 99 percent of NFTs' success is just from hype, influencer shilling, a little bit of luck, and a whole lot of right timing.
Paper Boyz is aimed at entrepreneurs or new NFT enthusiasts, with the website promising exclusive benefits such as free VIP event tickets, free airdrops/claims, and a soon-to-come premium Discord channel for holders and paid subscription owners only. 
Unfortunately, the NFT market is mostly populated by people who are less interested in VIP events and more interested in profitably flipping NFTs to get rich.
The day after the launch on an AMA, the founder, Josh King Madrid, stated, "Given NFTs just hit an all-time low and inflation hit an all time high, we knew going in to the launch that the price would need to be reduced drastically and the minting out would be a push, but we weren't complaining because it does not affect the utility of the NFT—at the end of the day, we've said since Day 1, this is a product and service being sold as a NFT for authentication but it is not a normal NFT where you expect to flip and trade." 
He continued, "This is for holders who want to use our upcoming product and attend our event, so whether 300 buy now or 3650 buy now, it does not matter because the mission of NFTMagazine.com remains and is not affected by how many people hold our life-time access pass. We'll be here building in the bear market and we will be ready when the next bull market hits. NFTs are here to stay, and so are we".
It serves as a reminder for those trying to switch their traditional business model over to a decentralized business model when selling their products and services. Think twice. It might work during a crypto bull run where people are willing to spend money on anything that sounds revolutionary, but in reality, it is still too alien of a concept for most of the world. 
From the sound of it, with the experience of the team that created Paper Boyz, they would have a lot more success selling their products and events in a normal FIAT fashion rather than with NFTs, which co-founder JoeySendz stated in a doxxed video announcement that they planned on doing. 
There is too much of a gap between crypto speculators and the general public. Over $25 billion was spent on NFTs last year, a large sum of money from which many celebrities and businesses have unsuccessfully attempted to profit. The actor and wrestler, John Cena, attempted to sell 500 John Cena-themed NFTs last year, but only 37 were purchased, which the actor and wrestler called a "catastrophic failure." Chris Brown, the superstar singer, only minted 3% of his collection with tens of millions of followers only a couple weeks ago.
If this was December 2021, the Paper Boyz NFT project without a doubt would have likely sold out in seconds just like their previous two free mints and potentially became a blue-chip NFT  considering the amount of attention they were able to grab and the size of their community, however, in this crypto winter everyone is hurting. It is safe to say they were too late or even too early, but it will be intriguing to see what they go and do with NFTMagazine.com over the next 2-5 years.