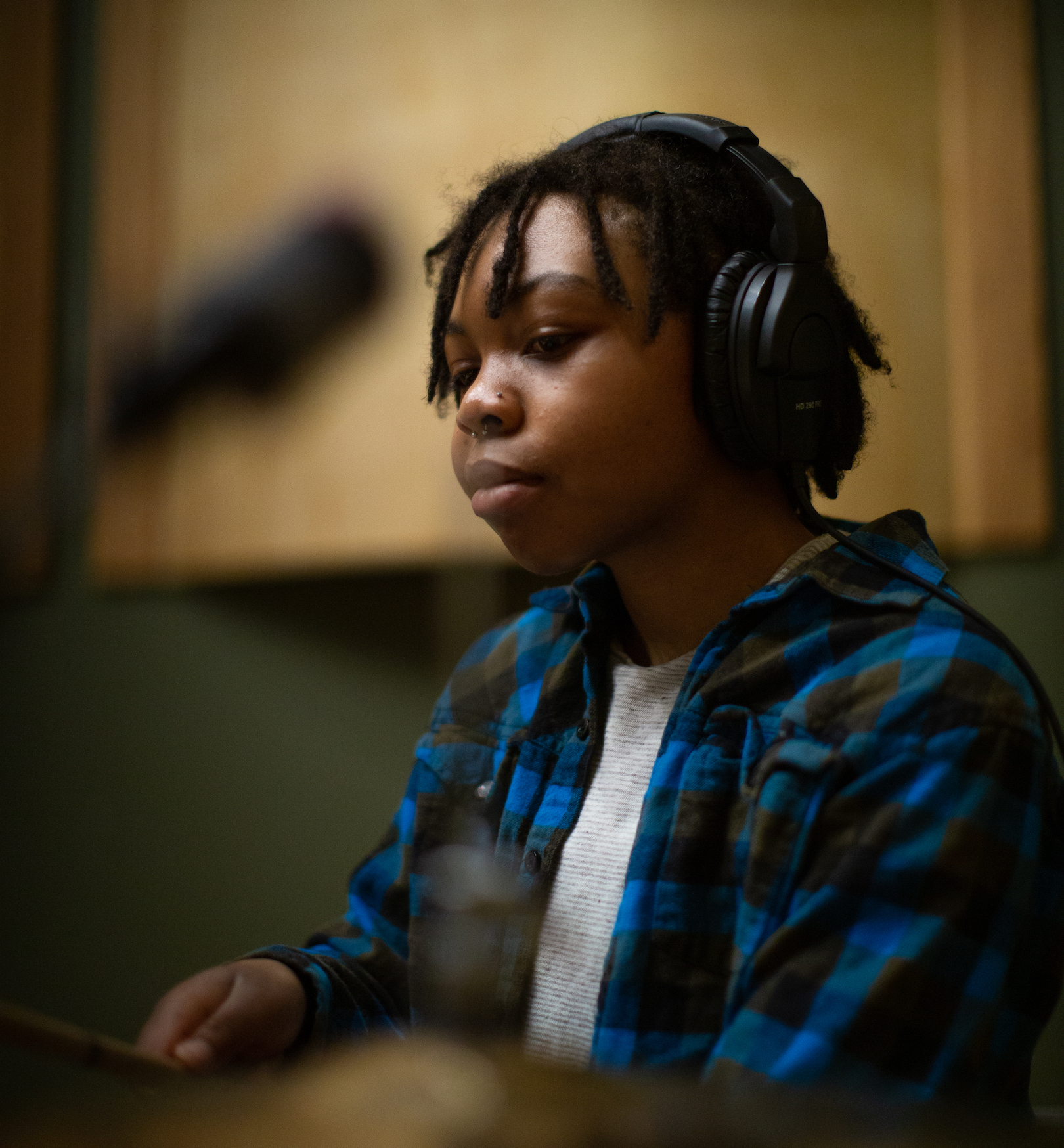 Developing a talent of your own can be incredibly rewarding but it certainly comes at a cost. Hailee Hutchings, also known as the drummer HUTCH, began a percussionist career at a very early age. By age 4 and after receiving her first drum kit, HUTCH would soon fall in love with the beautiful musical art of percussion. As HUTCH
began to grow, she also began to make a name for herself. By the time she was in high school, her friends who used to refer to her as Hailee, began calling her HUTCH; they believed the nickname just fit
her better.
According to HUTCH, the drum kit is somewhere she always knew she belonged. Ever since that Christmas Day when she received her first drum kit, HUTCH has been learning and growing day by day. From an early age and due to the musical inspirations of her father, she began listening to the greats: Led Zeppelin, Earth Wind & Fire,
and Jimmy Hendrix. For HUTCH, in order to become a great artist, she learned that she must study the history of her instrument and talent before she can move on to the next level.
Although HUTCH describes herself as a simple percussionist, she is also a snowboarder and producer. Her dedicated fanbase across social media actively follow her musical journey and growth that is slowly expanding into a wonderful and blossoming music career.
Part of what makes HUTCH's journey so appealing is her relentless dedication in her passion for growth. Having the opportunity to watch a young, talented musician blossom into a seasoned artist is something her fanbase cherishes every day. For many talented musicians across the globe, what truly makes art a refined the profession is the artists determination to change the world.
HUTCH regularly shares her newest singles across social media with her dedicated fanbase while at the same time shares exciting new photos showcasing her tour with popular artist L.A. Salami on Instagram.
Part of what makes an artist's musical journey very appealing to watch is overseeing a creator's undying passion to persevere. HUTCH's passion for music increases day by day and for the Masses that relentless determination can be translated into inspiration. That is why we admire the one's who dare to dream.
Whether it was playing with the School of Rock for several years or successfully completing various summer programs at Berklee College of Music in Boston, Massachusetts, if there is anything HUTCH has taught us, it's that you truly never know where your passion projects might lead you.
In an interview with DARK Magazine, HUTCH describes accidentally meeting popular artist L.A. Salami by sending him a simple direct message on Instagram.
HUTCH gave the inside scoop on how she initially met poplar artists L.A. Salami:
"I slid in his DMs and told him I liked his dreads. Then he asked me if I would be his drummer for upcoming American tour dates."
As the SoundCloud artist days continue to prosper and the bootstrapping of music careers have still yet to see the dawn of day, it's clear that dedicated, passionate, and motivated creators like Hailee Hutchings have a promising career ahead of themselves.
True, raw talent and genuineness are how the social media dial seems to be turning towards and it's very obvious that artists like HUTCH fit that mold perfectly.
Check out HUTCH's newest website portfolio and music announcements coming soon.
Follow HUTCH: @hutchthehutchings
Website: JustHutch.com
Business Inquiries: Haileelizhutchings@gmail.com