Self-made, innovator, and ready to take on any challenge, Yazz Nasir is a specialist in different fields of life— from business to entertainment, his experience is extensive! He is the founder and the CEO of the UK-based music label 'Ghost Recordz'. This multi-talented businessman appeared in the top 5 entrepreneurs to watch out for in the year 2020—he knows his game and is ready to help those who require a chance.
Yazz Nasir was born on May 24, 1984, in London. Belonging to a humble Pakistani background, he faced the competitive demands of the United Kingdom at a very young age. Starting at the age of just 18, Yazz was already prepared to step out into the chaotic world of real estate. Despite serving 10 years in the field, Yazz knew he wanted to do something more, something creative so he yet again stepped out of the comfort zone to take on a new challenge— navigating and moving onto owning a music label.
His extensive portfolio is unlike any other entrepreneur for he has always been ever so keen to experience something new, he took on project after project. From managing artists to bringing new faces in the entertainment industry, Yazz strived to provide opportunities and support to young aspiring artists.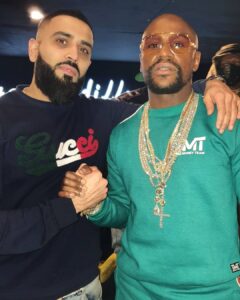 His record "Ghost recordz" is thriving and recently signed various new artists like the Khantwinz and Sundown. The record's YouTube channel alone consists of 242 thousand subscribers with over 17 million views! Apart from bringing in new talent, Yazz endeavors to provide other benefits like financial support, day-to-day management, and a platform to the talented youths.
Yazz Nasir's entrepreneurial spirit is definitely something to watch out for as well as to take note of, he is passionate in every field and this goes beyond just working round the clock, for he is always motivated to uncover hidden talents in the young people and to provide them an eventful platform. This motivation to help those in need is evident in his charity organization "Qari Nasir Uddin Trust", which was named after his late father, who sadly passed away in December 2019. Additionally, He teamed up with UNICEF and James Caan Foundation along with UK boxing champion Amir Khan, to work in the largest charity in the world!
A businessman of remarkable versatility, Yazz Nasir is also a ghostwriter who wrote many songs for famous and successful artists. Understanding the music labels better than anyone and the fact that they are overly critical of young artists, Yazz published his book "Music Label—the Truth" to help those aiming to work in the music industry.
Yazz Nasir's invaluable experience is unequaled. Plus, as a founder of the Ghost Recordz, he is ready to provide exciting openings to everyone who dares to dream. Forever a fighter, he isn't hesitant to raise his voice against the injustice around the world—with his charity organization he is ready to provide relief to those who need it.
One can reach Yazz Nasir through his website and his socials, where he is active and interactive with his followers.