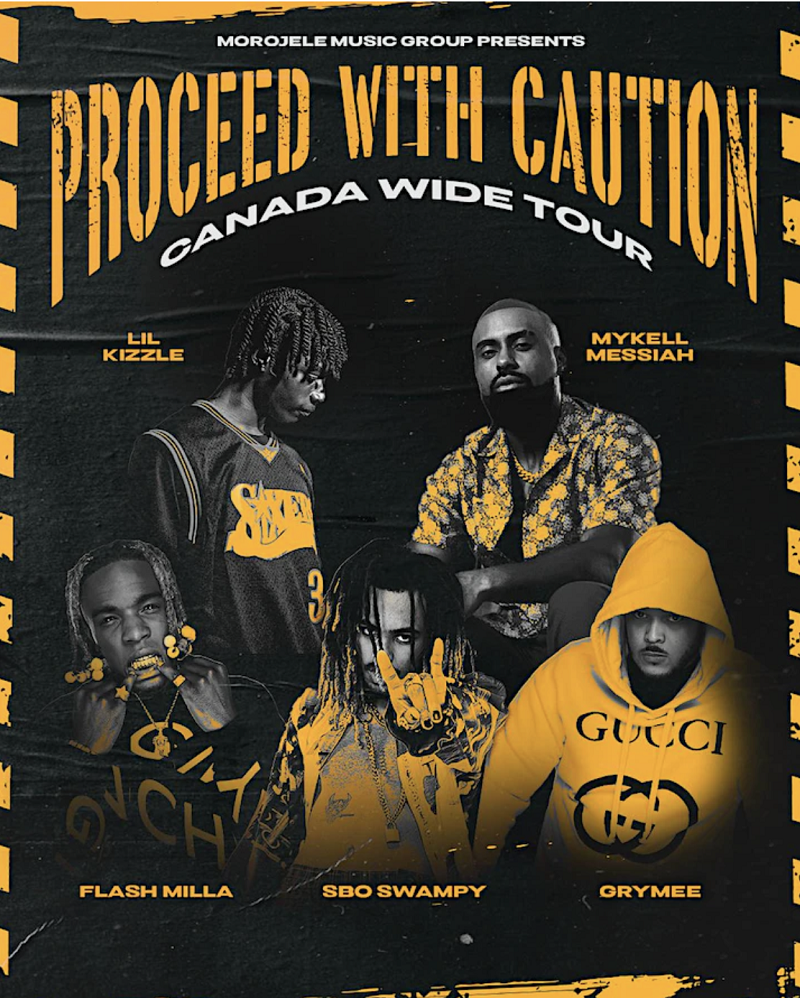 Urban Canadian music label Morojele Music Group has officially announced its first 2022 tour entitled"Proceed With Caution Tour".
Promoted cities include Ottawa, Hamilton, Guelph, Sarnia, and London. Additional cities will be announced as the tour develops.
The line-up includes roster stars Grymee, SBO Swampy, Mykell Messiah, Flash Milla, and the newest member 16-year-old Lil Kizzle who will make his official debut under the label Friday, September 23rd.
"As a collective, we're working towards becoming one of the most successful independent labels. We thrive to develop our artists in the best way possible and execute all their visions and aspirations to become the greatest they can be," said MMG.
Morojele music group was founded by Setsi "Tyce" Morojele a well-respected businessman in the Canadian music industry known for his achievements in artist development. Kicking off his career as a CEO with the first MMG artist, Dru Grange, alongside the MMG team – he was able to successfully produce charting singles resulting in a Juno award, and MuchMusic Video Award within the then underdeveloped urban Canadian scene. Part of their success included getting Dru licensed in Japan with JVC Victor, in South Africa with Universal Africa, and in Australia with Universal Music.
MMG then tackled the single "Stay With Me (Always)" in the Top 10 Hot AC and Chum song of the month in April 2008, while managing to get a second single charting at Canadian Top 40 called "The One". This simultaneously awarded MMG with two charting songs, something that was not yet done, at the time, in the urban music scene in Canada. In the midst of the success, MMG was working alongside the "6ix God" himself as part of Drake's early management teams.
Tickets can be purchased online via Eventbrite.
https://www.eventbrite.com/e/proceed-with-caution-tour-tickets-404806887297