Latest Feature Film since 'Privileged' in 1982
Marking the 40th anniversary of Privileged, the Oxford's OUFF, 1982 film launched the Hollywood careers of both cast and crew including Hugh Grant, Mike Hoffman, Mark Williams, Imogen Stubbs and producers Rick Stevenson, Andy Paterson, and Mark Bentley; writer Rupert Walters; Oscar-winning composer Rachel Portman. The Nocturne Productions team 2023 take on the mantle with Breakwater being the only second feature since 1982. The production is being supported by Andy Paterson, Mike Bentley and other members of the Privileged team as well as successful filmmaking alumni, Rupert Wainwright and Lord Neil Mendoza.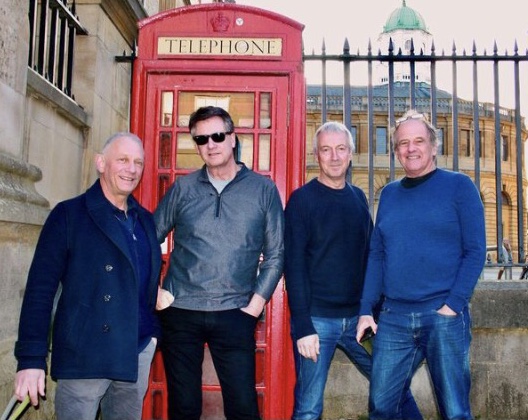 Variety Magazine, 'Privileged', Hugh Grant's best film.
Shaun Paul McGrath stars as John Werth, in Breakwater. Principal photography begins this April, on what's expected to be an equally notable an establishing film, from the creative team at Oxford Nocturne Productions.
Irish actor Shaun Paul McGrath
Shaun recently completed filming of a new TV series, Carthago; Directed by the Emmy Award winning Tomer Shani and writer Reshef Levi. Carthago is set in a British built detention camp set in the 1940s, North Africa. McGrath plays the lead antagonist a ruthless camp commander alongside British actor, Philip Glenister. (Life on Mars) Carthago has been selected for Cannes TV festival 2023 with the series due for major worldwide release thereafter. The Widow's Moon" directed by Werner Schumann (Absolution) is currently nearing post production, also to be released 2023. A tense psychological thriller, with McGrath playing Co lead with HanniBergesch.(The Grey Women).
Breakwater Feature
Breakwater's lead character, John Werth, is far removed from McGraths previous character role, Archie MacDonald. Although both share a world of instability concerning the character's past. Breakwater's, John Werth is more weighted on the side of what is not said, which allows for a subtle performance, which is one of the strengths of McGraths performance style. Shaun plays alongside Daniel McNamee, another fellow Northern Irish actor who plays Otto. Although set and played in England, this casting helps bring an air of intrigue, connection and intimacy to both characters back story.
Oxford's first independent feature in 40 years
The storyline is set between the glorious sandstone colleges of Oxford and the salt-encrusted shingle of the Suffolk coast. Breakwater blurs the genres of psychological drama and horror to explore the themes of connection forgiveness and grieve. The film follows the relationship between Otto, a university student, played by Daniel McNamee and the older John Werth, is played by Shaun Paul McGrath. Werth is a retired angler and widow who lives on the coast. Both characters collide and fuse irreversibly over the shared trauma of losing a loved one. However, their tentative romance develops into something more sinister after the past exhumes itself in the form of guilt and imaginary ghosts which creates devastating consequences.
Max Morgan: Writer/Director
Max has directed 'Mojo', 'Waiting for Godot' and assistant-directed 'The Effect' and 'She Felt Fear'. He has written a short film called 'Out of the Blue' and his short play 'Mole-Mapping' came 3rd in the OUDS New Writing Festival. Max is the writer and director of 'Fêtid', and is currently co-directing 'Enclosure', as well as acting as Associate Director for the Jesus College Shakespeare Production.
Intense relationship
Breakwater is about the intense relationship which develops from a hostile first encounter, to attraction and onto something much darker. A psychological drama about the need for forgiveness and the chaos that ensues when that need dissipates. It's about excavating the past we carry around as human beings, as well as self-denial and the inaction of not letting yourself get quite what you want".
Breakwater is being mentored by Mike Hoffman and Andy Paterson (the Privileged writer/director and producer)
Their input has helped carve an artistic guide-post for Breakwater director/writer Max Morgan.
Award-winning Director
Mike Hoffman – now an award-winning film Director with a back-catalogue including The Last Station, A Midsummer Night's Dream and One Fine Day – took on the roles of Screenwriter and Director on Privileged (1982). Recalling the experience of making the film, said:
'Privilege was an education. I had not set out to be a filmmaker, I saw myself very much as a theatre person, and resisted with all my soul what was a wonderful opportunity and grand adventure. I'm forever grateful to the people around me, Rick, Andy, Rupert, Mark, Neil, for believing in me when I didn't".
Jemima Chen Breakwater's Producer
"What is quite interesting is that Max has taken what starts of as perhaps a typical Oxford – themed story based on a young person struggling with identity at Oxford, a kind of 'Brideshead'-esque, which then gets completely flipped, and made a lot darker and removed from Oxford"; which makes this in essence an interesting artistic direction.
Breakwater takes into consideration specifically chosen shooting locations; Oxford and Suffolk are two beautiful striking locations; this will allow an intentional visual clash of both images; the smoothness of the golden sandstone contrasted with a grittier, darker salt-encrusted image. Breakwater has the traits of self-discovery which descends into darkness, collapsing into something more sinister as the both lead character's relationship steadily develops and unfolds.
Evan Bridges: Director of Photography
Born just outside Glasgow, Evan worked on feature films and high-end television programmes /commercials. including Life after Life (2021), You and Me (TBC 2023) and Black Cake (TBC 2023), the latter of which saw him working in Jamaica alongside British, American, and local crew on a production authored by Oprah Winfrey's book club. Evan has worked under some of the most sought-after cinematographers from both the BSC and ASC, gleaning from their experiences in both the technical and creative realms. Which in turn has inspired his own voice to create meaningful imagery that stays with audiences long after watching.
The past exhumes itself in the form of guilt & grief
Steadily running through the film is the theme of grief. Both character's lives collide and fuse irreversibly over the shared trauma of losing a loved one. However, their tentative romance develops into something more sinister after the past exhumes itself in the form of ghosts in the dark matter of the mind, which in turn has a devastating effect.
.
Max has certainly written a script that requires a lot of attention to detail and anyone who watches it by the end should be affected. . "I don't want it to be comfortable watching…One of Andy Paterson's piece of advice was that in the last fifteen minutes you should have no clue what is going on but you should really want to know what is going to happen".
The through-line is about two people trying to reach out to each other but end up hurting each other in a way that is unsettling. This in turn should prompt the audience to think about how we personally relate to each other – how much of yourself you open up to that person and what happens when you close off so much that the floodgates are forced open.
'Good fishing is like black magic. You can never lose focus. You cast a line out into this void, and there's this slim chance – if you do it properly – that you'll make something appear…'
"Privileged" 1982 changed the lives of the people who worked on it. There is no reason why Breakwater cannot have the same artistic cinematic storytelling success.
Links https://www.alumni.oriel.ox.ac.uk/news/made-in-oriel-marking-the-40th-anniversary-of-privileged-1982/